The FLEX³PRO is the de facto standard in controlling your flexo plate making process. It measures LAMS, transparent plates, DLE plates, film, and print.
The FLEX³XXL-PRO is the large format version of the FLEX³PRO and 100% compatible
The FLEX³HR high resolution flexo plate analyzer is a must for who is imaging his plates with high resolution image setters. The measurement resolution is appr. 43'000ppi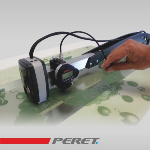 The RELIX option can be connected to the FLEX³PRO software to add plate thickness measurements and relief depth measurements to the quality reports. Measurements can be exectued remotely without touching the device.